Varispark recently won nine Best in Category awards for the use of variable data and direct mail print at the 2023 Graphic Excellence Awards. Hosted by the Print and Imaging Association MidAmerica, the Graphic Excellence Awards highlight technical achievements and innovation in print.
The Best in Category award recognizes print that was judged to be of superior quality or merit in a specific category. This marks the second consecutive year that Varispark was recognized with a Best in Category prize in the Direct Mail and Small Format Booklet categories.
For example, our approach to digital, data-driven print has helped companies in industries like the transportation technology space execute personalized, highly-targeted direct mail campaigns that showcase the power of print in driving customer growth.
Along with the nine Best in Category wins, Varispark also took home a Best of Show award — which recognizes extraordinary entries in the competition — in the kitting category.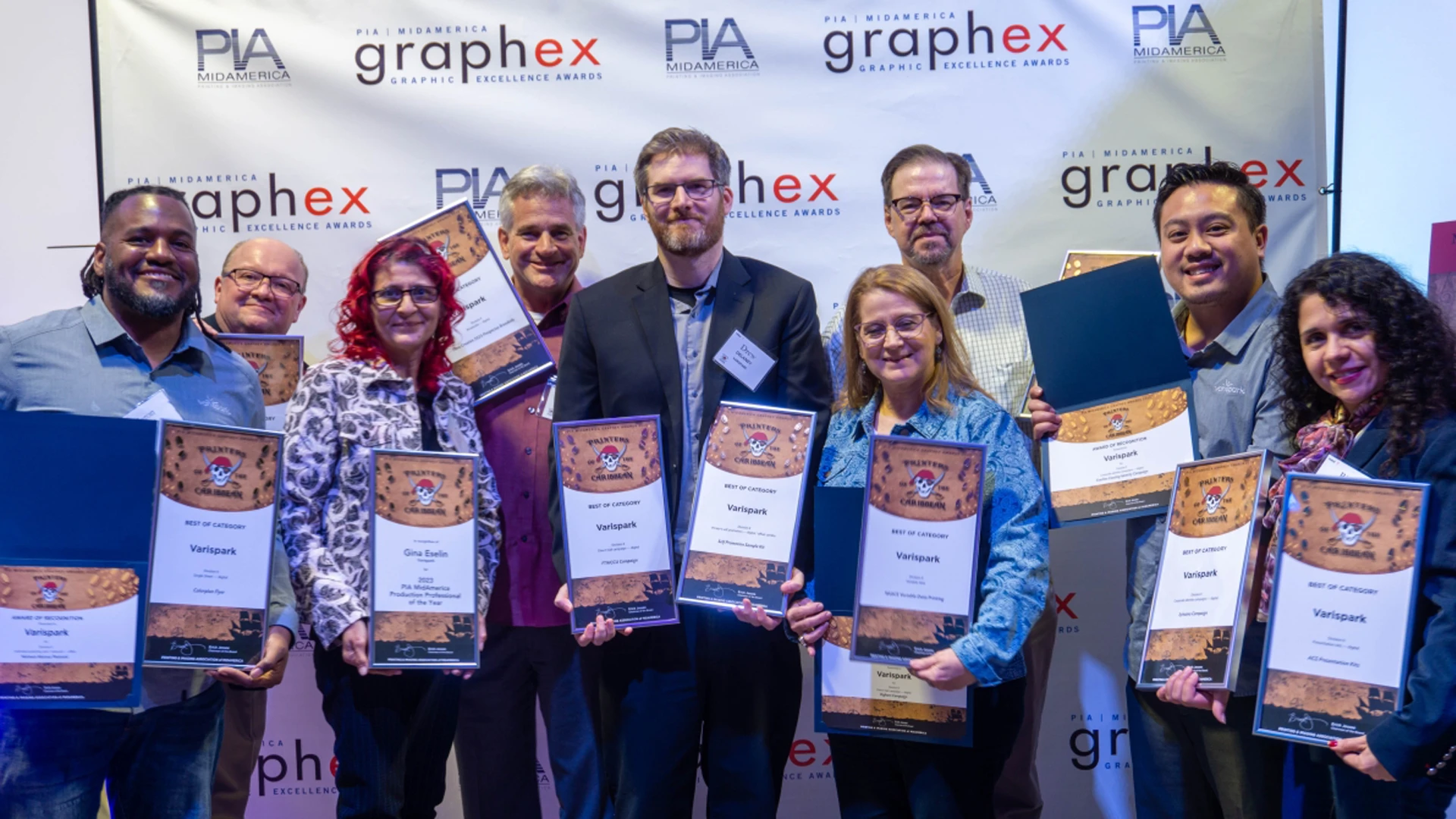 Varispark was honored in nine different categories that demonstrate the knowledge, experience, and versatility Varispark brings to a multitude of print types and applications. The complete list of Best in Category awards includes:
Booklets, Small Format – Digital 6 x 9 or smaller
Broadsides, Digital
Corporate Identity Campaign, Digital
Direct Mail Campaign, Digital
Presentation Kits
Self-Mailer, Digital
Single Sheet, Digital
Variable Data
Printer's Self Promotion Digital & Offset
Best of Show - Kitting
But it's not just Varispark's unparalleled print marketing and communications samples that received recognition — Varispark's own Gina Eselin won the 2023 Production Employee of the Year.
Since joining Varispark in 2014, Gina has worked in a variety of capacities and roles and brought her passion, dedication, and skill to every job in service of our mission and our customers. Gina is Varispark's current Production Control Lead, and she lives in Dallas, Texas, with her partner of 18 years.
Founded in 1994, Varispark is a leading print and marketing execution partner dedicated to helping customers streamline their marketing operations and leverage print to its fullest potential. Varispark specializes in high quality print in a variety of arenas including variable data printing, color digital printing, logistics, web-to-print, direct mail, postcard mailing, and data services.
Curious as to how we can help you create and execute award-winning print campaigns that make communicating with customers easier and more effective? Tell us about your project and we can get started.