You don't have to squint too hard to see 2023 on the horizon, and that means there's only a few months left to utilize the rest of your direct mail marketing budget for 2022. The question is: How to use that budget to create the biggest impact?
We know that when designed correctly with the right pieces in place, direct mail can be a valuable marketing tool as part of an omnichannel push — a USPS report recently found that 65% of millennials pay close attention to the direct mail pieces they receive, which means there's quite a bit of opportunity for marketers to reach a key demographic. And with more than 84 billion pieces of direct mail sent each year, it's important to make sure your postcard stands out in a crowded field.
To help ensure your postcard doesn't go unnoticed, let's look at a couple of simple things you can do to make your direct mail piece stand out, and how these specific postcard programs are using these techniques in ways that are making us smile.
Make the offer clear and to the point
It may seem like a very basic principle, but you don't want to bury a compelling offer that brings value to your customer or helps them solve a specific problem or challenge — never leave a recipient wondering what's in it for them by engaging with your postcard. It can be tempting to get overly complex or cute with how you message or convey your offer, but the truth is making the offer clear, concise, and obvious goes further in helping increase key metrics like response rates.
For example, this Ashley Home Furniture piece lays out the offer in black and white with just enough context to help the customer understand the incentive for engaging with the piece. The sticker conveying overall cost savings is clear and positioned on the page in a way that immediately draws the eye, and the concise use of copy in the top left corner helps the recipient understand the limited-time, seasonal nature of the offer.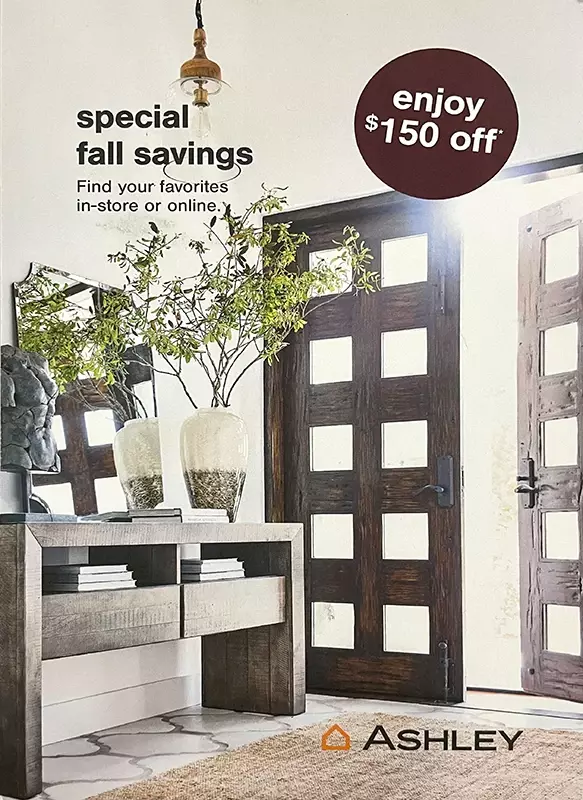 While this may not seem like the most flashy or exciting combination of design and copy, its genius lies in its simplicity and how it says so much with so little.
Don't be afraid to make things personal
By now, you know we're big proponents of personalization via variable data printing (VDP), especially because personalized postcards can increase response rates by up to 500% — who's gonna say no to that?
VDP is a printing technology that allows marketers to create customized print pieces, individualized for each specific recipient, on a large scale. Powered by software that can pull images, copy, or other components from a database, this information is then inserted into a direct mail design based on a variety of pre-set variables such as name, location, gender identity, and more.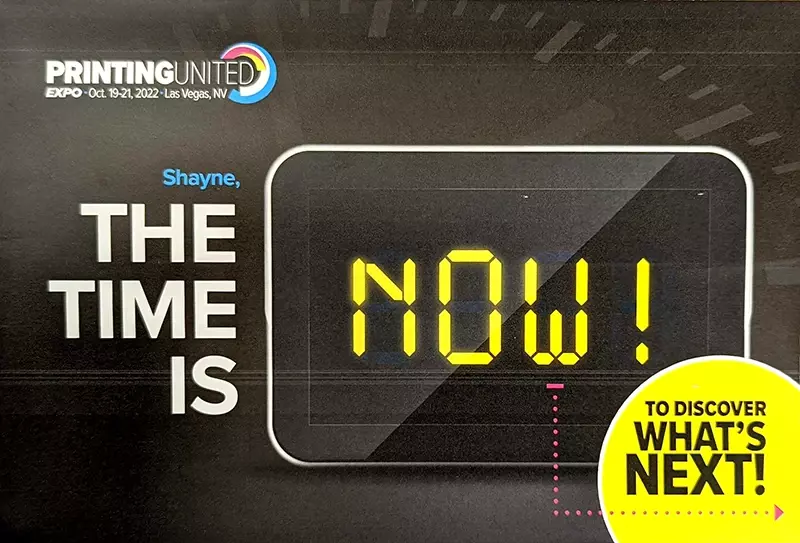 This Printing United direct mailer that promotes an upcoming expo in Las Vegas, Nevada uses VDP technology to insert the recipient's first name on the front of the piece to create a personalized touch right off the bat, which is a more immediate route as opposed to personalizing the messaging inside or on the flipside of the piece. In addition, the color and font of the VDP component makes the personalization really pop in stark contrast to the black background.
Use QR codes for an interactive experience
There are many ways to make your postcard program interactive to help extend the customer experience, but QR codes are a relatively inexpensive and universally accessible way to help build a bridge to the digital world wherein your customer can learn more about your offer or brand.
What really makes us smile about how LensCrafters incorporated QR code technology into their direct mailer is how the code itself is paired with a relatively simple, clear call-to-action that looks to solve a common complication: setting up an appointment.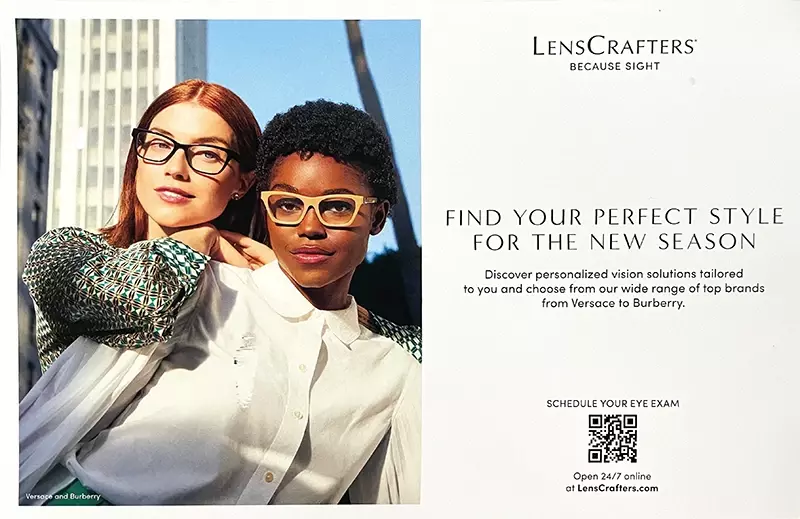 Plus, the crisp, concise nature of the copy preceding the QR code teases at the capability to browse and personalize a new pair of eyeglasses right from your smartphone, which further enhances the interactivity of the postcard and adds an exciting dimension to what on the surface seems like a somewhat bland direct mail piece.
Our team has decades of experience helping marketers execute a variety of direct mail campaigns in ways that stand out from the norm and drive measurable results. If you're ready to press send on a postcard or other direct mail campaign, tell us a little about your project and we can get started right away.